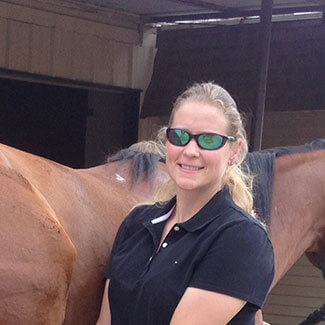 Dr. Misty Jordan became involved in the equine industry at a very young age while growing up in Southeastern Arkansas, where she was an all-around competitor showing in western pleasure, reining, barrels and poles, along with cutting, break-away and team roping. Dr. Jordan was president of the Arkansas High School Rodeo Association and competed on a national level in Breakaway Roping and Girls Cutting. Dr. Jordan's love of horses brought her to Texas, where she received an Endowed Academic Scholarship from Texas A&M University, and graduated with cum laude honors with a B.S. in Microbiology in 2000. While attending Texas A&M, she participated in college rodeos as well as amateur rodeos across Texas. In 2002, she received her M.S. in Veterinary Microbiology from Texas A&M University College of Veterinary Medicine under internal medicine specialists Drs. Noah Cohen and Keith Chaffin, where she conducted multiple bacteriology, molecular genetics, and clinical studies for the Equine Infectious Diseases Laboratory. Her primary focus of research was on Rhodococcus equi, an intracellular bacteria that causes severe pneumonia and pulmonary abscessation in foals. Dr. Jordan's research publications include The American Journal of Veterinary Research: "The Effects of Iron Modulation on Growth and Viability of Rhodococcus equi and Expression of Virulence-Associated Protein A" and "Iron Acquisition and Utilization by Rhodococcus equi. Potential New Virulence Factors."
After receiving her M.S., Dr. Jordan continued her education at Texas A&M College of Veterinary Medicine, where she received her Doctor of Veterinary Medicine (DVM) degree in 2006 with emphasis on Equine Medicine and Surgery. She was an officer in her student chapter of the American Association of Equine Practitioners for 4 years, and was the recipient of the National AAEP/American Livestock Insurance Scholarship in 2006. She was awarded the Dr. Frank Parks DVM scholarship along with the American College of Veterinary Surgeons Student Award. After graduation, she completed a rigorous equine medical and surgical internship at Weatherford Equine Medical Center in Weatherford, TX where she mentored under Board Certified Surgeon Dr. Jeffery Folland, and primarily worked on western performance horses including cutting, reined cow, and rodeo horses.
Dr. Jordan has been an associate at Burleson Equine Hospital since fall 2007 and purchased the practice in May 2011. She is constantly evolving and upgrading the practice, which now offers state of the art medicine and surgery to clients and referring veterinarians in North Texas. Dr. Jordan's professional interests include advanced diagnostic imaging, sports medicine, lameness exams, internal medicine, neonatology, emergency medicine, and advanced reproduction. Dr. Jordan is an active member of the American Association of Equine Practitioners (AAEP), the American Veterinary Medical Association (AVMA), the American Quarter Horse Association (AQHA), The Cowboys Professional Rodeo Association (CPRA), The United Professional Rodeo Association (UPRA), and The Ultimate Calf Roping Association. In her free time, Dr. Jordan enjoys showing her calf horses at AQHA shows, competing in the break-away at calf ropings and amateur rodeos. She enjoys spending time with her son, Levi, and husband, Brian, who also competes in the calf roping arena.