Amy Armentrout, DVM, MS, DACVS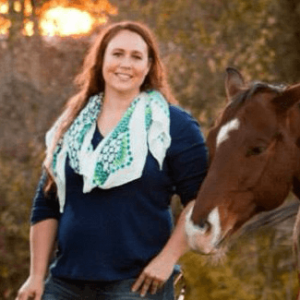 Dr. Amy Armentrout was born and raised in southern Nevada and has been riding horses since an early age. She was an active member of the Nevada High School Rodeo Association and still enjoys break-away roping and the challenge of working with young, unbroken horses. Dr. Armentrout attended the University of Nevada and obtained a B.S. degree in Animal Science and a subsequent B.S. in Biology in 2002. While in Nevada, she was an active member and president of Kappa Alpha Theta as well as involved with the Associated Student Union of Nevada. A natural leader, she was the president of her veterinary class and graduated from Colorado State University with honors in 2006 with a Doctor of Veterinary Medicine (DVM) degree. She also acquired a certificate in Veterinary Acupuncture from the Colorado Veterinary Medical Association: Medical Acupuncture for Veterinarians. While at CSU, in addition to her studies, she worked at the famous Gail Holmes Equine Orthopaedic Research Center of Colorado State University with Drs. Wayne McIlwraith, Dave Frisbie, and Chris Kawcak, where she gained invaluable mentorship in the areas of lameness, surgery, and anesthesia from the pioneers and leaders in the field of equine surgery. She also spent an extensive amount of time studying ultrasonography and MRI with world-renowned expert Dr. Natasha Werpy.
Following the completion of her degree, she obtained an internship working with the legendary Drs. Jerry Black and Brad Jackman at Pioneer Equine Hospital, in Oakdale, CA, a referral center specializing in equine lameness and surgery. She primarily worked on cutting, reining, show jumping, and dressage horses while in California. After her internship, she stayed at PEH for one year as an associate, where she continued to work on performance horses and spent time with a reproduction specialist, honing her embryo transfer and semen freezing talents.
Dr. Armentrout then completed a surgical residency at Kansas State University in 2011, where she earned her Master's degree in clinical sciences with a focus on equine lameness. Her primary mentor, Dr. Warren Beard, is widely regarded as one of the most talented soft tissue and respiratory surgeons in the U.S. She became a board-certified surgeon in 2012 and is currently recognized as a Diplomate of the American College of Veterinary Surgeons.
Dr. Armentrout is certified as an animal chiropractor by the American Veterinary Chiropractic Association. She trained in Animal Chiropractic at Animal Chiropractic Education Source and continues to incorporate chiropractic care into her general practice and has found that her patients are healthier and better athletes as a result of regular chiropractic care. Using a combination of her advanced lameness diagnostic skills, chiropractic care, and acupuncture, she has been helping her patients to stay in the best physical state and to compete at increasingly high levels of competition.
Dr. Armentrout joined the team at Burleson Equine Hospital in 2011 as an associate and surgeon. She loves the clients and staff at BEH and feels incredibly fortunate to have found such wonderful and talented colleagues. Dr. Armentrout's professional interests include surgery (orthopedic, soft tissue, dental, ophthalmologic, and oncological), sports medicine and lameness, equine chiropractic, pre-purchase examinations, critical care, anesthesia, and pain management.
Dr. Armentrout is an active member of the American Association of Equine Practitioners (AAEP), the American Veterinary Medical Association (AVMA), American College of Veterinary Surgeons (ACVS) and the American Veterinary Chiropractic Association (AVCA). Although Dr. Armentrout has attended many colleges and lived in several states, she is still a member of the Wolf Pack Nation and bleeds Silver and Blue! In her free time, Dr. Armentrout enjoys spending time with her husband Paul (who is a Fort Worth Fire Fighter), her 2 sons, and their two dogs, working out, playing volleyball, and shooting trap.